With water jet cutting, it's easy to create quick, accurate parts that can be used for prototyping your next project. At Edgewater, we know that water jet cutting is a great way to create a custom piece, as the process is precise, fast, and requires no tools.
The water jet cutting process uses a combination of water and abrasive materials to make precise, efficient cuts. At Edgewater, we offer water jet cutting of non-metallic materials, and we can handle any job, from the simple to the complex. Our experts work with customers to build better and more cost-effective parts.
Advantages of Water jet Cutting
Although water jet cutting is similar to laser cutting in some applications, water jet cutting services result in low-contact, no-heat cutting that produces burr-free parts, can be more affordable, eliminates some secondary operations, and reduces material waste because of the ability to provide close nesting of cut parts.
Water jet cutting offers manufacturers flexibility that no other cutting process can offer. With water jet cutting, Edgewater can offer a range of applications, and we can cut irregular shapes from any non-metallic material with exceptional precision and edge quality.
Edge quality is a significant reason why designers specify water jet, as water jet cutting produces a smooth, uniform, burr-free edge. The edge quality produced by water jet is a function of speed, pressure, nozzle size and abrasive flow rate. In fact, in many cases water jet cutting eliminates the need for secondary finishing, which can mean significant time savings.
With water jet cutting, Edgewater is able to offer precise internal cutouts, with a cutting accuracy of ±0.038 to ±0.2mm. We can cut virtually any shape or thickness. We offer increased cutting flexibility and can work with you to cut just about any non-metallic product.
Cutting tolerances as close as +/- .003"

No distortion or warping of materials

Small kerf width to allow tight nesting and optimal material usage

No heat affect zones (HAZ)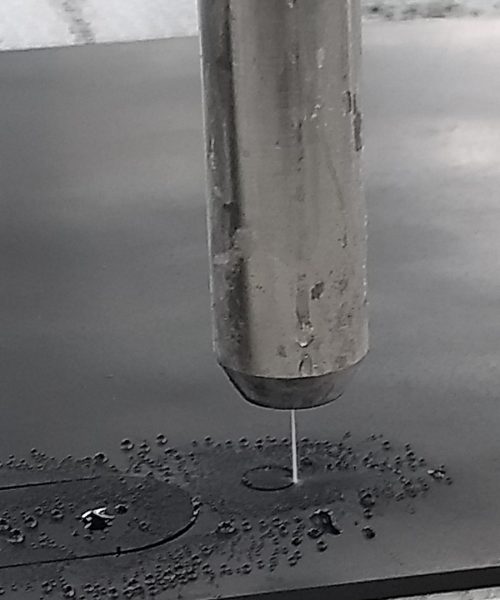 With Edgewater, you'll work with experts in the field who can help you create exceptional custom parts. We custom cut any non-metallic material, and can drill holes as small as .030" in diameter. Our state-of-the-art water jet cutting capabilities are unmatched on our precision manufacturing and cost-effective production floor. Contact us today to learn more!