Kiss cutting is one of the most popular methods for creating adhesive backed applications, which allows them to be applied as easily as a sticker. Edgewater is proud to offer kiss cutting of non-metallic materials from 0.032 to a half inch thick. Kiss cutting provides precision, accuracy, and many other advantages over individually cut parts, such as leaving an extended liner on the product for easy handling and application.
We can handle all your kiss cutting projects at Edgewater, from creating felt applications for the base of light fixtures to creating 6 inch by 6 inch sheets of 1 inch by 1 inch foam squares. We can handle as many cuts as your project requires, and we pride ourselves on precision, as we cut each application to your specifications.
Advantages of Kiss Cutting
As opposed to die-cutting, our kiss cut allows for the backing sheet to remain intact, which can translate into easier removal of the applications. Delicate designs also tend to hold up better with kiss cutting, as the backing helps to protect your applications while it's being transported.   
Kiss cutting is a quick and reliable process that allows customers an economic method of purchasing sheets of labels, stickers, or other applications that are precut around the shape's perimeter.  We can cut through gaskets, foam, closed cell sponges, rubber, and any non-metallic material without cutting through the backing material.  Our kiss cutting machines cut through one layer of material, and each job can be customized to meet your project's unique needs.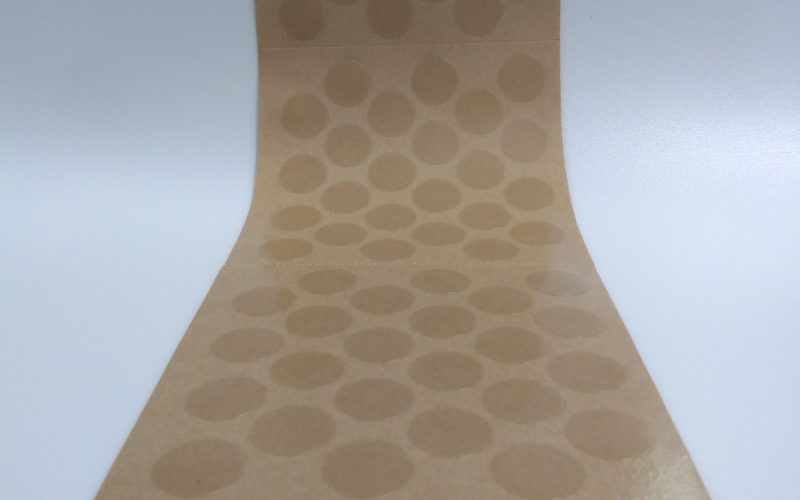 Kiss Cutting to Meet Your Specifications and Budget
At Edgewater, your unique specifications can be met with kiss cuts, and our attention to detail will ensure that your applications will meet your requirements.  Kiss cuts can create a high volume output with accuracy and economy, which can help meet your business's needs and budget. Our team of experienced technical engineers can answer any questions or address any concerns you may have about your order.  
We'll find the perfect options for your unique application and create a process that will result in the least amount of waste.  No matter your kiss cutting needs, whether you're looking to create laminate stickers or cork applications, Edgewater can handle them.  Contact us today to get started!